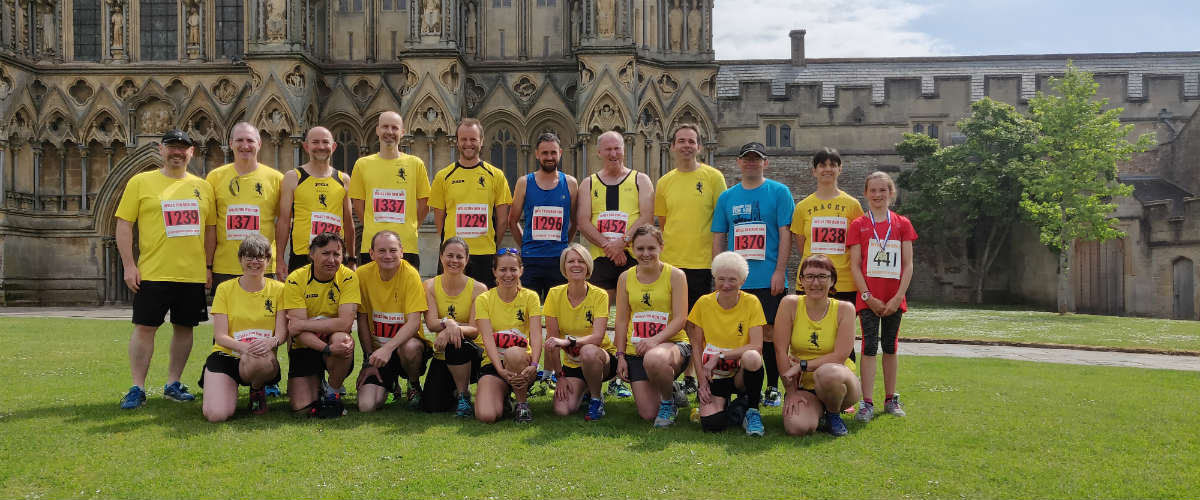 Olympic Torch relay: Congratulations to Jason Vickers, Tony Perry and Arthur Gilbert who carried the Olympic   Torch.  Arthur  carried the torch on Monday 21 May in Minehead, whilst Tony will be running through Street and  Jason will be running through  Glastonbury with the torch on Tuesday 22 May.
Sport Relief 2012: Congratulations to everyone that ran in the 2012 Sport Relief. A magnificent £4817.04 was raised  for Sport Relief from the Burnham on Sea event. A great achievement to all who participated. 
Burnham on Sea 2012 Half Marathon, 7th October: 30th – Stuart Anderson 1:32:08;   68th – Kevin Clements  1:39:42; 72nd – Sue Nicholls 1:40:01 (1st in FV60 category); 89th – Reg Huxtable 1:45:35;    109th – Kathy Beard  1:49:56 (2nd in FV45 category); 134th Alison Salvador 1:54:56; 154th – Paula Hopley 1:59:46; 202nd – Mark Hopley   2:02:59; 178th Paul Mckinlay  2:06:19.  Fun Run Results: Link 
Melbourne Marathon, Sunday  October 14th:  Congratulations to Sue Nicholls who completed the Melbourne  Marathon in 3:45:41, finishing 2257th.
Dublin Marathon, Sunday  October 29th: Congratulations to Alan Chambers who completed the Dublin Marathon  in 5:18:20, finishing 10,934th.  
Burnham on sea 5km winter series race 2, Thursday  November 1st: 10th – Stuart Anderson 20:47;
18th – Kevin Clements  21:53; 34th – Karen Stevens 25.02; 39th – Roxanne Faulks 26:45; 41st – Paula Hopley  27:01 Full results: Link       Race 3: Thursday December 6
Ilminster 10km, Sunday November 4th: 121st – Kathy Beard 51:04 (3rd in category);144th – Jason Vickers 53:43;
148th – Mark Hopley 55:00; 165th – Alison Salvador 56:10; 166th – Paula Hopley 56:10    Full results: Link
Burnham on sea 5km winter series race 3 Thursday  December 6th: 9th – Stuart Anderson 20:48; 31st Paula Hopley  28:28    Full results: link Race 4: Thursday, February 7th 2013
Christmas Jingle, Sunday December 23rd: Sue Nicholls 30:27; Mark Hopley 32:47; Alison Salvador 33:09; Sarah Yard 34:19; Roxanne Faulks 34:25; Tracey Benton 37:08; Paula Hopley 37:08  
Stoke Stampede, Sunday December 30th: 160th Mark Hopley 52.10; 188th – Alison Salvador 55:12 206th – Karen Stephens 57.36   
If you have doubts about joining the club, why not come along to our club evening. Our club run is on Tuesday evening. Each group runs at a different pace, accommodating runners of all abilities. We meet at the Bay Centre from 6pm, with each group setting off at different times. Please keep an eye on our Harriers Facebook page as club runs are published weekly and some groups set off from alternative locations.